Yesterday I shared my Christmas mantel and fireplace decorations with y'all and I showed you my new favorite Christmas decoration, Frosty and his friends! They are wooden snowmen made from 4×4's!
I was inspired to make these little guys by this picture. I found it on Pinterest, but it's originally from the Etsy shop Double Duty Decor.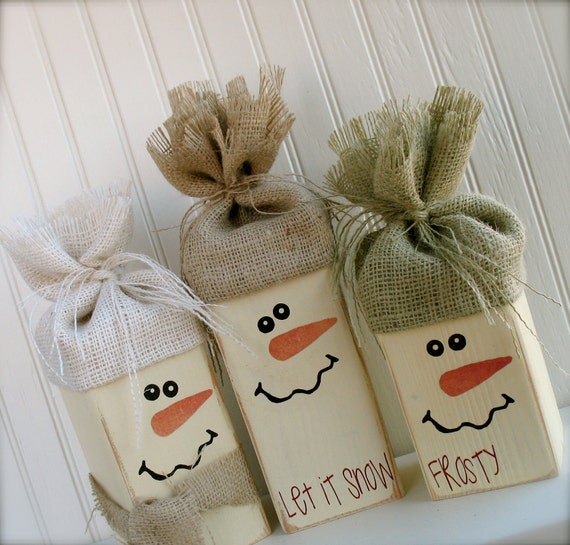 They were actually really easy to make and only cost me 50 cent for the orange paint for their carrot noses! First I had Jesse cut down some 4×4's for me. We used the 4×4's for our table legs, the reveal for that is coming on Monday, I promise! 
I sanded down my wood just a bit to get ride of any super rough edges or splintering and then painted them white. I let the wood show through in a few place for a more rustic look.
After the paint was dry I used craft paint and a small paintbrush to paint on my faces. For their hats, I simply cut a square of burlap and wrapped it around the top, securing it with hot glue, and tying it with ribbon. Then I cut off any excess burlap and used that for my scarves. The little top hat is made from some black card stock that I found in my craft drawer. I think he's my favorite 😉
What do you think of my little snow-pals? Aren't they adorable? What's your favorite Christmas craft?
I'm linking up! Centsational Girl, Home Stories A to Z, House of Hepworths, Serenity Now, The Shabby Creek Cottage, and Hi Sugarplum!